We -weihua technology-have professionally produced a variety of metal signs for 27 years. If you have any metal signs that you want to customize, please inform the details below, and we will design the most suitable custom metal label for you.

Shape and size
What is the size of the metal nameplate you need? Where will metal signs be used? Tell us these two details, we can know the size of the metal sign you need and customize the sign that suits you according to the size you need. At the same time, we can make the most suitable sign shape for you. We can make squares, rectangles/rectangles, triangles, pentagons, hexagons, irregular shapes, ellipse, and so on.
Materials and finishes
What kind of material do you need? What is the thickness of the logo signs material you need? What kind of text and patterns do your metal signs have? Metal signs generally have choices of aluminum, aluminum alloy, stainless steel, cold-rolled steel, nickel, copper, iron, etc. The thickness of these materials is generally selectable between 0.01''-0.12'' (ie 0.2mm~3mm). Regarding text and patterns, we need to choose the most suitable product thickness and craftsmanship according to the complexity and type of the text and pattern of the product.
 Most of the existing metal signs are made of aluminum, stainless steel, or nickel.
 Aluminum has good ductility, is easy to process, and has good corrosion resistance and weather resistance. Even in harsh environments, it can still keep the signs from fading.
 Stainless steel has the characteristics of high-temperature resistance, corrosion resistance, acid and alkali resistance, and oxidation resistance. Even if it is exposed to high temperatures and rainstorms for a long time, it is still relatively strong and not easy to fade and deform.
 The thickness of the nickel badge is generally 0.15-0.3mm. Because it can be electroplated and vacuum plated into a variety of colors, the color of the nickel sign is also richer, and it can be maintained for up to 10 years without fading, giving a high-end and high-end feeling. The surface of the sign feels very smooth and has a line feel.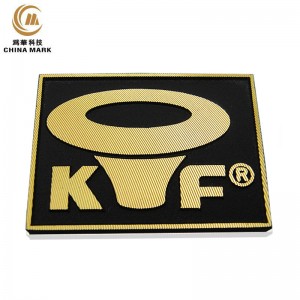 Color and surface treatment
According to the different metal sign materials used, the sign colors that can be selected are also more colorful. Such as aluminum anodized signs, the signs of this process are the most color optional. Can make gold, silver, red, orange, yellow, blue, gray, black, purple and so on. The signs of this process can guarantee long-term color retention and durability. At the same time, the color of the signs of the aluminum printing process is also very rich. Basically, most signs tend to use the aluminum printing process, because this process is very simple to make and the price is very cost-effective.
 Stainless steel signs can generally be made into a mirror, matte, sand, wire drawing, mesh, twill, CD pattern, and three-dimensional concave-convex surface effects;
 

Adhesive and hole
How would you like to install your sign? Whether to stick the adhesive directly on the back of the sign or to forge the foot or punch holes around the sign to fix it. These can be used. If you want your sign to be more beautiful, we recommend directly using adhesive or forging feet; if you want your sign to be very strong in harsh environments, we recommend using screw holes, which can make your sign more sturdy.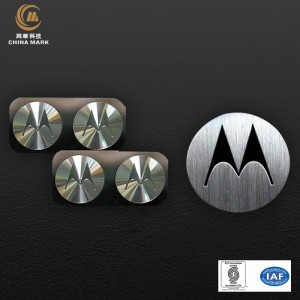 If you have a demand for metal signs in the near future, please don't hesitate to contact our sales staff directly: wh@chinamark.com.cn or call 86+19926691505 to get more significant details and the latest free quotation.
At the same time, if you want to chat quickly, you can also add our business WhatsApp: 86+19926691505 or Skype: jennylau929.
Searches related to aluminum logo:
---
Post time: Jun-24-2021